Father-daughter duo joining hands, delivering TCM to the young consumer market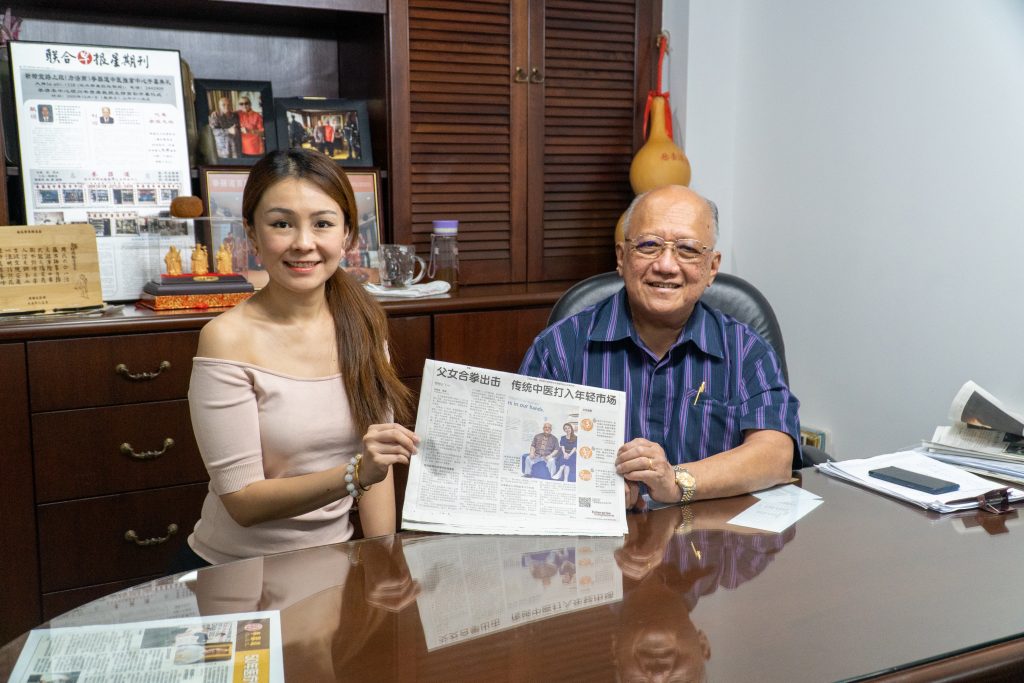 For the small and medium-sized enterprises (SMEs) , the unabated COVID-19 epidemic is like a marathon without a finish line in sight, a test of perseverance and resilience, for the ones who can hold out the longest to emerge as winners.
The "梦想企飞" series interviewed four companies whom have been well established in the respective sector. Before the pandemic, these companies had realized the importance of business transformation and started to include it into the business plan. In order to fight the epidemic, they recognize that in an ever-changing world amidst the pandemic, the determination and need for business transformation are even more apparent
After witnessing the daughter's hard work and determination over the last 20 years, it has given the father great faith to pass the baton forward. For more than 50 years, Chien Chi Tow now emerged with a new brand rejuvenation and digital transformation to appeal to the younger segment, the vision is for the company to continue its legacy beyond centuries.
Leaving a legacy is an art.. The founder of Chien Chi Tow, Lim Choon Huat (75 years old), gave his daughter Yen Lim (42 years old) a piece of advice: Remain true to our original aspiration and keep our mission firmly in mind.
Chien Chi Tow was first founded in 1969, as a martial arts institute.
Chien 拳:The Act of Martial Arts);Chi 器:Weapons used in Martial Arts ;Tow 道:The Way of Practice
Master Lim started Chien Chi Tow first through teaching students martial arts. His students would injure themselves during practice, this motivates him to start working on treating muscle and bone injuries, and even developed  'Tjin Koo Lin'  formulated with a total of 36 types of medicinal herbs.  In the 1980s, Master Lim made multiple trips to China, Gui Lin, to learn about Tuina from Grand Master Wei Gui Kang. After 3 years of exploration, he opened the first TCM Tuina Centre at Bendemeer road.
Till now, Chien Chi Tow is a well-respected heritage brand with 6 outlets and more than 100 employees. From martial arts institute to being a Traditional Chinese Medicine service provider, providing a comprehensive suite of holistic solutions such as tuina, acupuncture and treatment.
Expanding to young consumer group with the help of digitalization
A year and half ago, under the leadership of Yen, Chien Chi Tow began to embark on a digital rebanding journey. 'I hope Chien Chi Tow can appeal to the younger generation, and not only the older generation knows our brand.'  With the help of experts in this area, she co-created a brand new set of Chien Chi Tow corporate identity, and refurbished the Ang Mo Kio outlet first. 
With Enterprise Singapore (ESG) support and the assistance of SME Center, Yen and her team have also developed a customer-centric App for Chien Chi Tow, allowing customers to make appointments for treatments or massage treatments on their own. Upon customers' arrival at the appointment time, the staff will guide the customer to check in for their booked consultation or treatment room through a centralized management system, without needing the customers to go through an additional registration process.
This is not the first time that Yen has carved a niche into a young consumer market. In 2017, she founded Madam Partum, which is specially designed for pregnant women to care for their pre-partum needs and postpartum care. It became very popular and became an important boost of confidence for Yen to lead the business brand transformation of Chien Chi Tow.
In the past, staff could only do manual records with paper and pen for the start and end time of each treatment for every patient. Now, a tablet is installed near the door of each room. The massage practitioner can key in the starting and ending treatment time with a single touch on the tablet. Digitalization of the consultation process is carefully thought through to meet the consumption habits and expectations of the younger generation. Yen: "I think that in order to achieve market segmentation, the focus is no longer on the business itself, but also the consumer experience." Whether it is hardware or software rejuvenation, it will be gradually extended and applied to all Chien Chi Tow outlets, benefiting all customers.
As the mother of two, Yen also suffered from blocked milk ducts and low milk supply after childbirth. She followed her father's advice and properly massaged the blocked breast with the TCM methodology to use meridian acupoints to help relieve breast tenderness and pain, and also solved the problem of her low milk supply.
Her personal journey and experience of a mother's ordeal during breastfeeding prompted Yen to think about how she can help more first time mothers based on her personal postpartum recovery and effectiveness of the TCM methodology. At the same time, she took on management courses, which inspired her to think about the shortcomings of the company's development strategy. "I realized that we are lacking younger consumer groups, so I decided to focus on this outreach to them."
Combining the needs of the younger consumer market for first time mothers, the concept of Madam Partum was born.
Yen's original strategy was to include a recuperative tuina service specifically catering for pregnant moms, amongst the many services provided by Chien Chi Tow. However, she realized that the image of Chien Chi Tow is seen to be too masculine, and it is challenging for the brand to be relatable for pregnant women.
After much discussion with a business consultant, Yen decided to carve out her own brand. Yen capitalize the effectiveness to harness social media to manage and market her brand. Some of the mommies that have used Madam Partum's services include well-known local artists such as Joanne Peh, Tracy Lee, singer Kewei Tay, and key opinion leader like Naomi Neo etc, who have reaffirmed Madam Partum's brand through social media by leaps and bounds.
The success of Madam Partum really encouraged me. I have more confidence in the market and more confidence in advancing my vision.
Yen said that she knew she wanted to inherit her family business from young. After graduating from the Royal Melbourne Institute of Technology (RMIT) in Australia, she joined Chien Chi Tow and started off from ground zero, handling customers and working as a team with everyone at the front line. "I don't understand traditional Chinese medicine treatment, but I love management and innovation."
A Father's hope for his daughter to continue the business for the next 50 years
Due to the lack of a professional background in Traditional Chinese Medicine, Yen has encountered many challenges in management. During  the early days of joining Chien Chi Tow, there was a massage therapist who spoke harshly to Yen, which impacted her greatly.
That experience made Yen realize that she must establish her own leadership style if she wants to inherit her father's career and legacy. " My way is to convince others with reasons. I often tell my team that we are working hard together for our future. Without them, I couldn't do it."
Observing his daughter's effort, Master Lim said "She has been in the company for more than 20 years.  She knows the company's direction and vision. I saw her dedication and hard work so I decided to empower her and support with funding in her bid to progress the company."
Seeing the redesigned logo that was hung in the store, Master Lim shared openly that he had even thought of letting the Chien Chi Tow exit naturally. But his daughter's efforts made Master Lim change his mind. "Madam Partum is unique in Singapore, and it is in line with the spirit of Chien Chi Tow. As the heart of the business lies in our hands."
Master Lim also believes that her daughter has reached the suitable age for succession, they naturally have a tacit understanding and share the same goals. Master Lim said: "Chien Chi Tow has been here for 50 years, and I will count on her to progress the brand for the next 50 years."