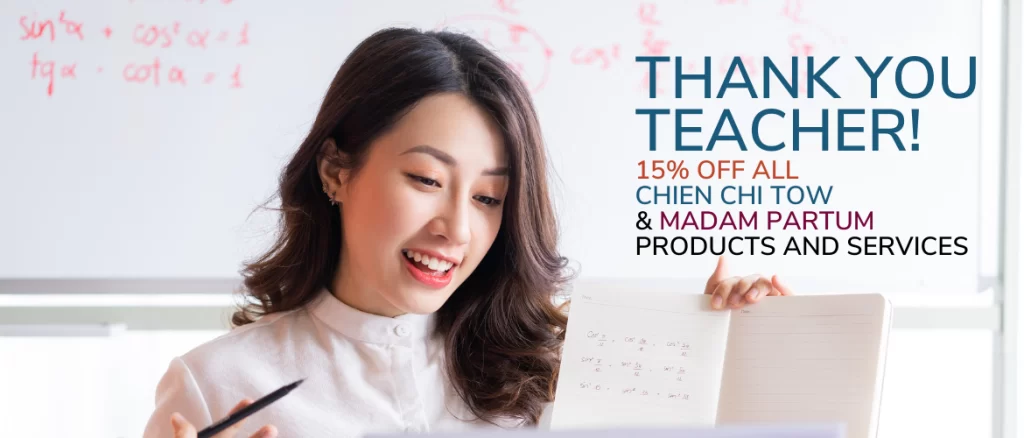 Calling all Teachers and Educational Staff
From 4 to 15 September, simply flash your teaching staff pass or name card at any of our 6 Chien Chi Tow outlets islandwide to enjoy 15% off all Chien Chi Tow & Madam Partum products and services.
Terms & conditions apply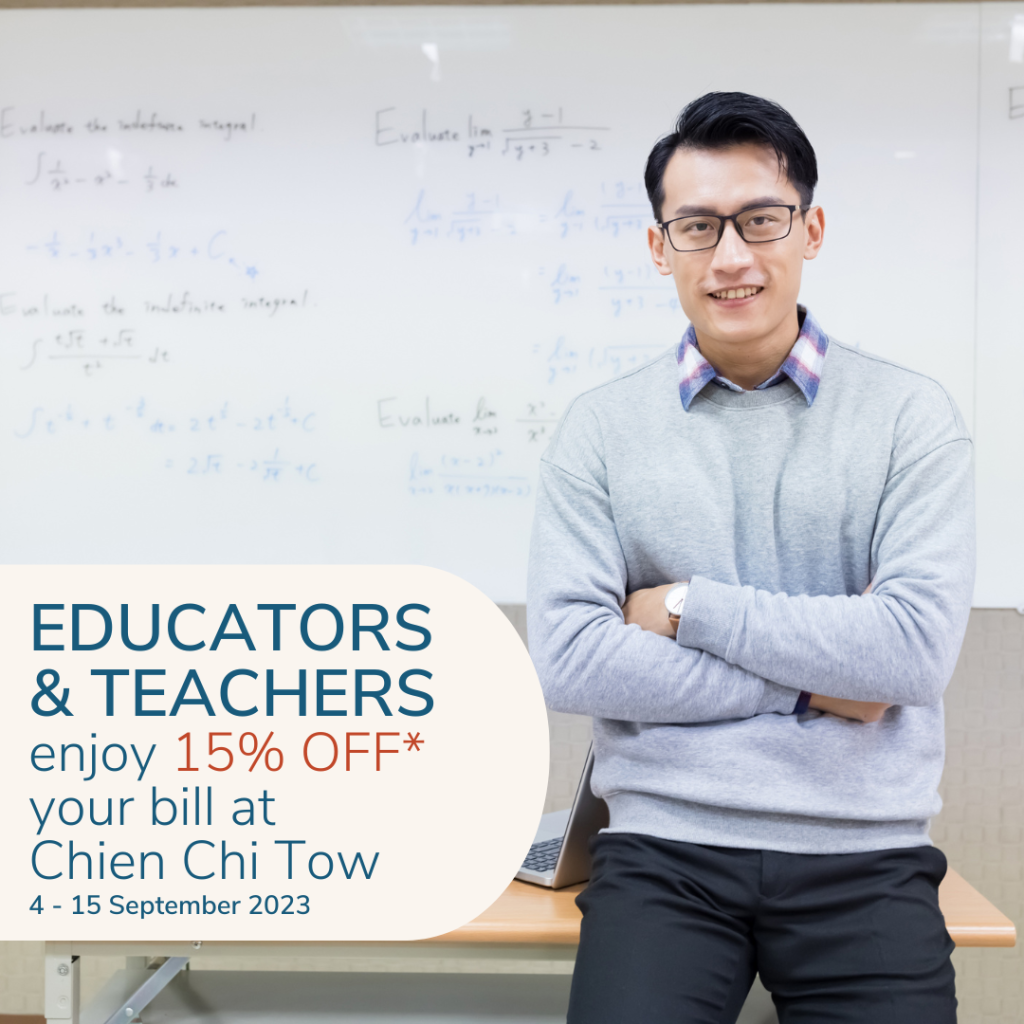 Open to all Teachers and
Educational Staff
Whether you are a teacher, lecturer, private tutor or simply just work at an educational institution, this promo is our way of saying "Thank you!" for helping to shape the future of our country! 
Simply present your staff pass or name card together with your NRIC during registration to enjoy!
*Terms and conditions apply
*Advanced booking required

First, our TCM Physician will understand the pains and aches you are currently facing through a 1-to-1 consultation.

Next they will proceed to recommend and prescribe a treatment plan for the diagnosed issues.

Our TCM Physician will now administer the appropriate TCM treatment modalities based on the diagnosis and recommendations. This treatment usually involve Tui Na 推拿, Acupuncture 针灸, and/or Cupping 拔罐.

After the treatment, our TCM Physician will also recommend self-care instructions and tips to help you boost your recovery process.

Mabel
Google Review
Dr Liu (刘医生)is an extremely experienced TCM doctor, who always goes the extra mile to ensure that his patients are well treated. He demonstrates a high level of professionalism, and will always make the extra effort to ensure that patients receive the most appropriate treatment and medication. Definitely a highly recommended TCM physician

Phyoe Lynn
Google Review
This TCM is very professional with their service. I had an issue with a lock jaw and went over there for treatment. It was very painful experience but it works. Dr Quek examined me and suggested types of massages around my neck, cheek and back. I also had acupuncture on my neck and back. Cliff helped with the massage for nearly 45 mins. I immediately felt a bit better after the visit and recovered within 4 days.

Fei Fei Li
Google Review
I've developed very serious frozen shoulder condition 6 months back, had been too orthopedic and 5 sessions of physiotherapy, the condition become worse. Decided to try Tuina at this branch. thanks to 刘医师 and all the 推拿师 who've been helped me, my condition improved rapidly after the 6 visits only. Highly recommended!

Gerry Choo
Google Review
I have visited to Chien Chi Tow at Eunos branch for the past 2 months. Each time I went for my tennis elbow treatment, there is also slight improvement. I am also very delighted with the experience at their branch as everyone are so friendly and make me feel very welcomed. Thank you very much!

Shihui Khee
Google Review
Dr. Teo Choon Mei was very detailed and careful, and I really appreciated her thoughtful line of questions when trying to make her diagnosis. She's also helpfully explained the tendon inflammation diagnosis and what to do at home to help it improve. She can speak some English, so non-Chinese speakers don't have to feel worried about not being able to communicate. Her acupuncture is swift and precise, very amazing!

Annabel Lam
Google Review
The Chinese Doctors and massagers are so professional. They helped me to release my body stiffness especially my shoulders and back. The price is very reasonable. I will come every two weeks now.

Jason Tan
Google Review
1st visit to Jurong East outlet and met the infamous Fa Ge.. his skill is excellent and able to relieve the pain from my sprained ankle. Most importantly they are not pushing you to sign package or hard selling any products.

Cherlyn Leng
Google Review
Have visited Chien Chi Tow AMK for more than a decade now, mostly for my sports injury treatment. The staff and the therapists are great in what they do, and I always feel better after a visit. Would like to specially thank Dr Tran for treating me for the past few years for all of my issues and I always feel better after tuina and acupuncture done by him. His technique and precision were so good that the acupuncture he's done on me were painless on the skin level, and also very effective. Dr Tran is also very approachable and friendly!
From 4 to 15 September, enjoy 15% off all Chien Chi Tow & Madam Partum products and services.

Terms and conditions
All payment must be made using cash/credit card only

Discount does not stack with other ongoing discounts/promotions/e-wallet privileges

Customer must present a staff pass from the educational institution that they are from

Not valid with Pioneer and Merdeka Generation benefits

The management of Chien Chi Tow Healthcare Pte Ltd reserves the right to amend the terms and conditions of this promotion without prior notice to customers